Hooorrrrayy!!! It's December at long last! Which is actually kinda scary because, as I realised yesterday, I'M HAVING A BABY NEXT MONTH!!
It also means that I've been able to get all the craft stuff out to do some really cool things with Dexter as part of our advent activities, which you'll see in a moment.
If you've never been here before, then firstly welcome, I hope you enjoy this linky and get involved but let me just explain a little bit about what it is…
The 'Friday phone dump linky' is a place to share those fabulous photos that we take of our awesome kids and the things we get up to all week long that sadly just don't make the cut for our normal blog posts.
Some people write "The week that was" styles posts. Others do "Our week in pictures" Whatever it is you chose to do, they're all welcome here as long as it is a weekly round up post and includes plenty of piccies or an image montage. The rules are below, I hope you enjoy your visit and join in with us.
So, heres our week!

We realised it's been a very long time since I've cooked one of my 'epic fry ups' and lately Liam has been letting me lie in at weekends while he gets up with Dexter so I decided I would get up on Saturday morning and cook one for the 3 of us. Admit it, you want it don't you!? I was so gutted that my stomach just doesn't have the capacity it used to at the mo so I didn't get to finish mine. Sad Times

Our beautiful tree got knocked fell over. What was once awesome and beautiful now looks like crap. It's no way up to my standard but right now I just don't have the energy to sort it out.

Our advent calendar is one of those wooden ones with drawers in, so as well as putting tiny chocolates in, we have a Christmas related activity to do each day. December 1st is always "Write a letter to Santa". Normally we do this ourself but this year we bought a kit that included stickers, addressed envelopes and a template letter too.

December 2nd was making lollipop stick stars and snowflakes. This one included glue so of course Dexter was in his element.

The boy has been a poorly one for most of this week so we have spent a lot of time cuddling up on the sofa. Hoping he gets better soon as he's really not a happy boy at the moment.
And finally, yesterday's activity was making Christmas cards to send to family. We managed one card before he started getting irritated and as he isn't feeling great I was probably expecting a bit much from him so I've put this away for another day for now.
So what have you all been up to? I can't wait to start seeing some more Christmasy themed pictures!
So, it' over to you…. xx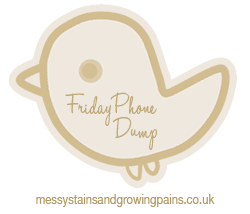 Linking up with